Decadent but healthy cannabis edibles are a treat, satisfy cravings while getting a daily dose of cannabis with this recipe.
When making cannabis edibles everyone is different. Some people will choose to use medicine from scratch or RSO form, so this is up to the consumer. Anyway, when you have completed the blended oils (coconut + cannabis), I'd suggest trying my recipe for semi-raw bom bom inspired in a vegan pie.
This recipe can make one 100g pie or 10g bom bom portions. You'll need round molds.
Crust:
Non peeled almonds 5g
Peanuts 5g
Dates 10g
Ground sea salt 1 pinch
Vanilla powder 5 pinches
Directions: Grind. Press the mixture down into the mold with your fingers. Reserve in the freezer.
Filling:
Caramelized banana:
Banana 30g
Rice syrup 15g
Pinch of sea salt
Directions: Halve the banana and sauté it in the syrup for a couple of minutes each side till soft. Season with salt.
Now purée the bananas with:
Cannabis infused coconut oil (melted) 30g
Peanut butter 10g
Raw cocoa nibs 2g
Directions: Purée just a little till the banana and oils blend well but keeping some little crunchiness from the cocoa nibs.
Pour this mixture over the crust in the mold(s) and flatten the surface with a spatula. Reserve in freezer.
Chill in freezer for 2 hours at least before serving. Take it out a few minutes before serving to soften. After removing from freezer, take out of the mold and put it in the serving dish immediately (even as the dish softens a bit).
Peanut caramel topping:
Rice syrup 5g
Maple syrup 1 table spoon
Peanut butter 3g
Vanilla powder 5 pinches
Ground sea salt 1 pinch
Directions: Blend.
Pour this topping right over the just before serving for the best results.
Constructing Bom Boms
 For those of us looking to construct the bom boms, first create the chocolate shell.
100g melted cocoa butter at around 42°c
 4 full tablespoons raw cocoa powder
 1 pinch salt
 10 pinches vanilla powder
 2 tablespoons rice syrup
 2 tablespoons maple syrup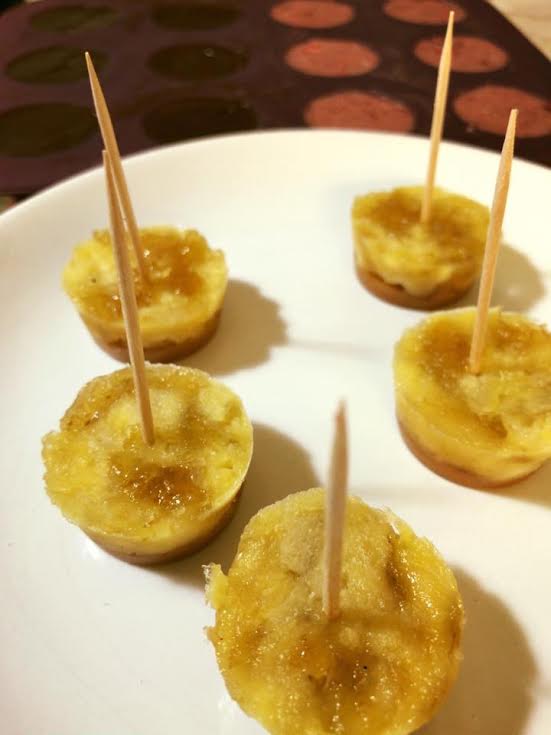 Whisk to blend. If the chocolate gets hard or too dense in the process it can be melted by putting the recipient for a while in a bowl with a little hot water. Stir.
Stick a caramelized banana slice on a toothpick after a dab of the caramel topping has frozen on top. Dip each banana slice into the chocolate mixture and set aside to dry. Sprinkle with fresh sea salt for an aromatic twist, this will also heighten the flavors.