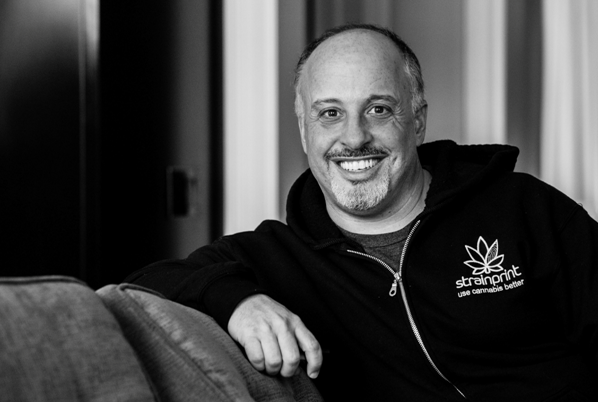 StrainprintTM Technologies recently announced the closing of a round of Series A funding to fund talent acquisition and expand marketing and sales across North America, Germany, and Australia. StrainprintTM is the leader in cannabis analytics and data that is taking the industry to the next level by tracking patient information on cannabis medical efficacy to help doctors, cultivators, distributors, and patients better understand which chemovars work best for specific ailments.
The Canadian company personalizes each patient's experience by allowing them to select the symptoms that they want to treat and helps create a library for the varieties of cannabis used. In addition to selectingsymptoms, patients chose how severeeach symptom is on a scale of one to ten and then list what product they're using to treat it.
Next, they can select the preferred method of ingestion and the dosage. The app notifies you when its time to judge the particular chemovar's effectiveness and stores the information for future use by doctors. It also allows the patient to adjust and narrow down which type and dosing of cannabis works for them. The data can be exported to the doctor treating the patient so that they can follow along with the treatment process.StrainprintTM has apps for Android and iOS devices.
The Canadian Marketplace
Dave Berg, the President and Chief Technology Officer of the company, said that Canada was the perfect place to start using the technology since they are the only country with a federal cannabis market and with legislation set up that enabledbeta testing the system before going into more complicated cannabis marketplaces like the United States. They have high testing standards,and for products to be marketed legally, they have to meet established health and safety requirements.
Canada has approximately 300,000 licensed medical patients, 100 licensed producers, and 80,000 registered doctors, yet only about 10,000 of these physicians are prescribing cannabis. It seems that even in a legal market, the stigma surrounding cannabis still exists. One of StrainprintTM'sprimary goals is to remove the stigma through education and help doctors, pharmacists, biotech companies, and patients understand and develop the next generation of therapeutic possibilities.
The idea for StrainprintTM came from Stephanie and Evan Karasick, two of the company's founders. While suffering from PTSD, Stephanie didn't like the side effects of the medicine that she took so she asked her doctor what she could do. The doctor suggested cannabis as a solution, but there were so many options and doses that treatment was overwhelming. At the time there were about 600 cultivars and Karasick,and her doctor had to use trial and error to figure out the correct dosing and varieties of cannabis to try.
Stephanie kept a journal throughout the process to track her results and realized that each variety and dose made her feel different and provided better or worse results than others. Berg expressed that it was then that Karasick realized that an app should be created to track these results for all patients.
Security and Functionality
Berg said that the app balances security and functionality allowing for easy use of the app while safeguarding health information to the highest safety standards and meeting all regulations and HIPAA requirements. The company is transparent and honest about what the data is used for,so there are no hidden agendas.
While StrainprintTM can't validate the chemical constituents of the product that patients are consuming, they treat the data as indicative of consumer preference and behavior. They're not reinventing the wheel, but instead using faster tools to bring this technology to the market.
StrainprintTM and Cannabis Research
Canada, like the United States, is in an opioid crisis. Cannabis offers cost savings in healthcare for the government while offering alternative solutions for a variety of ailments and illnesses with the wellbeing of patients being a top priority. StrainprintTM wants to help patients, doctors, and other industry players better understand the medicinal benefits of cannabis.
In just over a year, the company has collected over seven million data points of medical cannabis. Washington State University has already used data from StrainprintTM to provide guidance on the quantities and chemovars of cannabis that people should use to reduce depression, stress, and anxiety. It appears to be the first scientific study in this area thus far meaning that we are well on the way to getting the most therapeutic benefits that cannabis can offer. StrainprintTM is going to be a key part of this movement.
Over the next year, StrainprintTM plans on rapidly engaging in the U.S. marketplace. Berg says that the company wants to help people better medicate themselves and to have a more functional life. It's a collaborative effort, but one that is essential to the future of the cannabis industry.